In 1994 the world needed a super hero movie. What we got was The Crow, The Mask and a McGuyver sequel- we did not get the super hero movie we deserved: Fantastic Four.
Now when I say 90′s-low budget, I not only mean it, but I mean it as a good thing. I grew up in the 90′s so maybe I'm a bit nostalgic, but man if this film was released I would have been one obsessed 4 year old.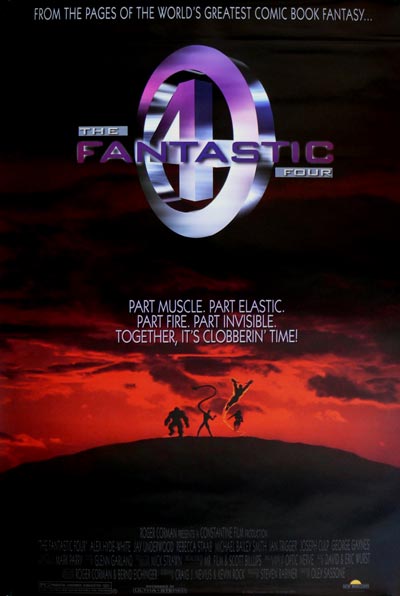 This film would have been been right up my alley when I was younger. My parents would get my little brat butt to do things that I didnt want to by telling me that Batman would do it. Or he would eat it. I still call garlic bread "Batman Bread" from time to time or remember trying to imagine Batman having to pick up his Legos. Thats why this is my favorite JLA comic.
I would have seen right past these cheeky outfits, only halfway absorb the script and loved those action scenes. I can see myself  yelling "flame on!" and jumping off of the couch, or clobering stuff as the Thing. What I mean by this is that the Fantastic Four would have been added to the list of comic book heroes that I know and love from my childhood. (maybe) Like Batman or the X-Men when I finally did pick up a comic book I knew where to go first. It wasn't until recently that I began to like the Fantastic Four at all.
The story includes all of the regular Fantastic Four events and themes. Opens with them getting there powers, Reed and Sue romance, the Thing thinks he's ugly and Dr. Victor Von Doom tries to destroy New York City. Just the regular deal for  90′s action films. There are a few other goodies thrown in there too, I don't want to spoil too much. It's ambitious, to say the least. And like the original Tron, its not hard to see past the low budget quality, and let it just be fun. I promise you the effects are so bad you'll keep watching.
"Watch? I thought you said it was unreleased?" I did. And it was. But the whole thing is available in parts on YouTube.
Here, Part 1, Part 2, Part 3, Part 4, Part 5, Part 6, Part 7 , Part 8, Part 9.
But in case you don't feel like watching it right now, here's the trailer.
Its produced my the same people who brought us the most recent two movies. They weren't bad, but they turned me away from Fantastic Four as all that cool.  The did kind of piss me off with there interpretation of Galactus though. He is one of my favorite characters and they totally ruined him- same with the Silver Surfer.
But with guy who directed Chronicle making the new Fantastic Four reboot hopefully we will see less of this:
And maybe some of this? I want more of that purple armor though.
ON ANOTHER NOTE:
In my opinion Marvel and DC have not properly used film as a medium for part of there story telling. What its always seemed like is that comic book movies are people just cashing in on a random franchise picked out of a hat. These stories do not need to be reformatted to fit the big screen. They should exist side by side with the comic books themselves. Much like yearly events, movies could provide continuity just like any other arc. This is being done somewhat with the Avengers, and everyone remembers the whole thing with Superman marrying Lois Lane on TV but not nearly the extent to which I mean.
Movies don't need to be reboots of the comics. I feel like this would not only allow for these movies to be a continuing franchise like James Bond, but also be able to have different characters played by different actors. Also like James bond, it can be updated and not be limited to 3 movie epic trilogy. The X-Men movies wouldn't be the mess they are in and these stories could have progressed to a level far beyond where they are now.
Anyway- that's my bit.